The Boppypants have been in my thoughts for many years. It's wonderful to see it in print.
This is my first venture in writing children's books and I've loved every minute of it. I have so many stories and characters ready to come to life in print - so watch this space! I'm so excited that I found Sammy and asked her to illustrate the Boppypants book. A dream come true!
Background
Wendy also works as an IT Consultant, a Care home entertainer and a singing teacher. She is often seen singing with the band The Blue Tides. For more information contact her at www.unionbelle.co.uk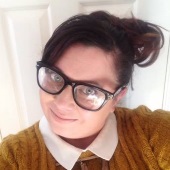 I love bringing words to life with my creative style.
Boppypants is my first venture into book illustration. To create images to bring Wendy's words to life was very exciting, using the style I already use on Prints I create and Sell with Butterflies and Cupcakes gave me the opportunity to use my skills and techniques and bring to life DeeDee and her family.
Background
Sammy also owns the company Butterflies and Cupcakes creating personalised prints.www.butterfliesandcupcakecrafts.com.